ECU, engine control unit repair by professionals from Austria
As an Austrian company, we offer cost-effective engine control unit repairs from professionals. We not only offer repairs for a defective engine control unit, but also services such as ABS control unit repair, Instrument cluster repair, Speedometer repair and Speedometer repairs an. In this article, we would like to go into more detail about how the repair of defective engine control units works and what exactly an engine control unit is. You can find more information about which control units are available in our category Control unit. You can find all of our automotive repair offers in our Automotive Shop. Go to ABS repair there is an article of its own and we have especially for the ATE MK61 repair also published an article.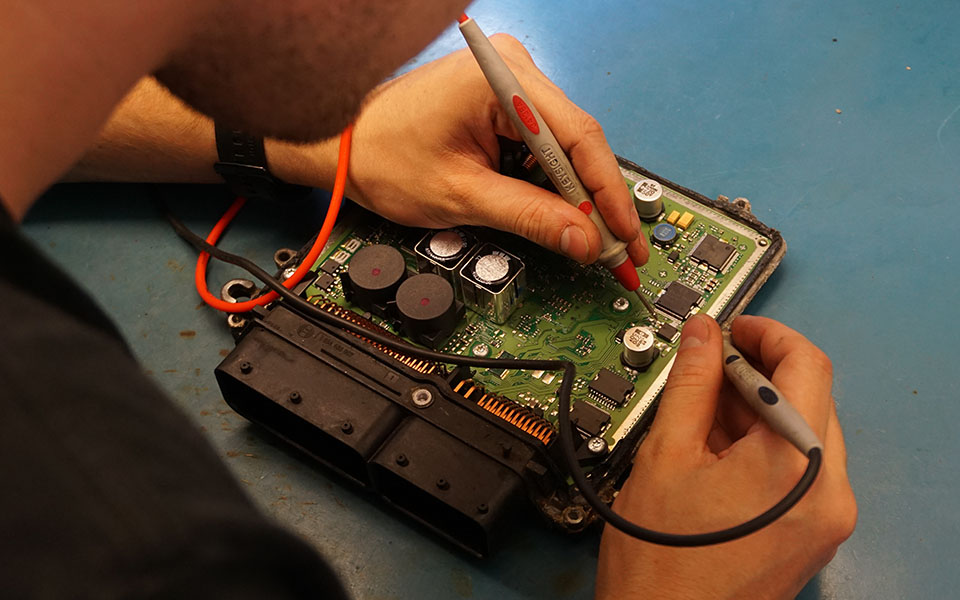 The engine control unit and its function
The terms DME, ECU, injection control unit and PCM are nothing more than different names for engine control units. In the vehicle itself, the engine management computer controls the engine function and monitoring. In order for it to perform this function, it uses actuators as well as sensors. Actuators include the throttle valve, various valves and the ignition coils. Sensors include the accelerator pedal, fuel pressure sensor, the engine temperature sensor and many others. In newer cars, the ECU also controls battery charging, air conditioning and cruise control, among other things. For more information, see Engine control unit Wikipedia. In the following article we will now come to our engine control unit repair.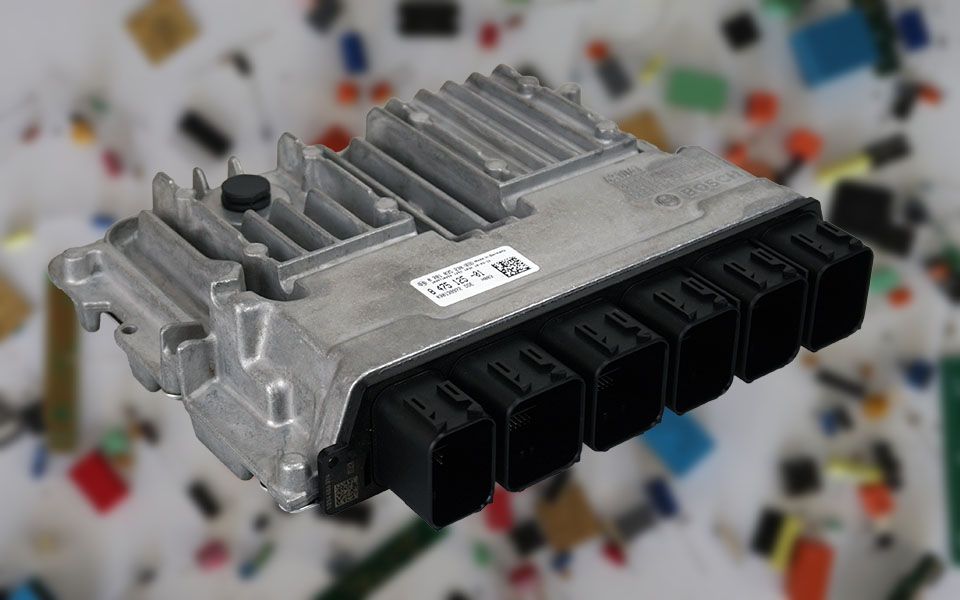 Internal structure of the injection control unit
For a professional ECU, engine control unit repair A distinction is made between two groups of control units. One is constructed with a normal epoxy resin circuit board, the other consists of ceramic circuit boards and is called a hybrid control unit. The repair of the conventional ECUs is done in the soldering department. During ECU repair, new semiconductors, capacitors and resistors are installed according to OEM specifications. Unfortunately, it is not possible to replace the components of hybrid ECUs, as they are glued and encapsulated on the ceramic circuit board. The ceramic circuit board is connected to the connector via bondings. If these connections are defective, you need a special machine (ultrasonic bonding) to restore them. We show you how this works in the following video.
Diagnose the control unit beforehand
In order to avoid unnecessary effort during the ECU repair, it should be ensured by appropriate tests and diagnostic queries that the ECU is really defective and not, for example, the supply line, earth connection, plug, fuse or another ECU. Unfortunately, we cannot carry out a complete test of the control unit on the table. Our tests are limited to the assemblies that match the fault. If injector 1 is diagnosed as the fault, then we test the complete electronic control of all injectors. Therefore, a good preliminary work is indispensable for us.
Loan control unit for easy fault localisation
We offer loan engine control units for workshops. If you are not sure where the fault lies, you can contact us to see if we have a suitable loaner control unit. With this fully functional control unit, you can test whether the fault lies with the control unit or with the vehicle. These loaner control units also help us with the engine control unit repair, as we can measure them as a reference.
When is an ECU repair necessary
ECU repair is necessary when the electronics of an engine control unit have a defect. With a Engine control unit defective there are a variety of symptoms, including that the unit can no longer be diagnosed or that the existing problem cannot be rectified after checking all error-relevant external components. In addition, it can also happen that the software causes an error. Because of this complexity, it is extremely important that we receive all relevant information from you. This helps us to repair the engine control unit quickly and successfully.
Engine control unit defective, repair by Mosertronik in Austria
If your engine control unit is defective, you can order a repair quickly and easily via our Austrian online shop. We have an extensive selection of control units from well-known brands and models such as Bosch EDC16U1, Delphi Delco HSFI and Bosch EDC16C2. Do you need a product repaired that is not listed on the website? Then just send us a request, we can almost certainly repair your part anyway.
Duration and procedure
For a Engine control unit repair from our shop, proceed as follows: Search for the device in the shop, select error description, add individual details, select handling and place in the shopping cart. This can be done for as many components as necessary. After completing the purchase, a repair order will be sent to you by e-mail. Please print it out, sign it and enclose it with the package. As soon as we receive the package, we will check and repair your device. If there are any discrepancies, we will always contact you by phone.
Programmed used control unit
If an engine control unit repair is not possible, we can often offer a replacement unit and transfer the vehicle data to it. If we do not have a suitable device in stock, or if you have one yourself, we can also program your used engine control unit. The device can then be installed directly without teaching. Please note: We do not check the old control unit or the software and coding.